bethbethbeth posting in

comics_reviews_etc
As promised, I'm making an initial post to share some favorite comics artists, and I'd love for you to do the same.
Embed or link in the comments below - or make a separate entry as you please - and it's up to you whether or not you say much of anything about why you like the artist's work.
---
(Note: it struck me as I was checking over the coding for this post that all three works make extensive use of...the color brown. I swear I like other colors. Really!)
My first pick - and really only the second comics artist I ever took any notice of - is David Aja. A Spanish artist, who came into comics after some time as a professional illustrator and art teacher, Aja was probably best known until recently for his work on
Immortal Iron Fist
, but at the moment, it's his work on
Hawkeye
with the writer Matt Fraction that's drawing the most interest: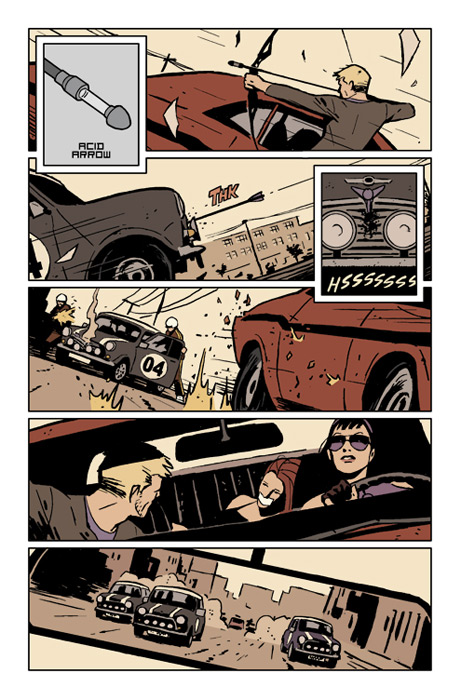 [Hawkeye #3]
Apart from having such a distinctive drawing style, I'm really impressed by the way Aja is able to create
movement
in his work. Honestly...a comic book car chase that feels like a real car chase? Aja's something special.
---
I mentioned that Aja was the second comics artist I took notice of. The first was Dave McKean.
McKean is known for many things, but for me, he's always going to be associated with Neil Gaiman's
Sandman
, which was the first comic series (or should I be saying "graphic novels?) I gave more than a passing glance to between my childhood and...last year.
This cover for "Brief Lives" demonstrates the perfect use of collage to create something rich and original and both creepy and strangely beautiful.
---
And finally (not that I couldn't include another half dozen favorites) is Paolo Rivera, who I met at New York Comic Con (2012) and...okay, I had absolutely no idea who he was when I met him (I had no idea who anybody was that I met at NYCC), but the prints on his table drew me in. This was the one I really wanted though:
Sadly, it was not to be. It turned out that Rivera had created this poster on spec, but by the time he showed it to Marvel, they'd already contracted another artist to do the poster for the
Captain America
movie. They really loved it though, so he turned it into a limited edition print for the cast and crew. I think that's the story as I remember it? In any case, it wasn't available for purchase, much to my sadness.
---
Okay, so that's that, at least for the time being. Your turn!